Extracurriculars, community partnerships and teaching the whole child at KIPP New Jersey's schools.
At KIPP Whittier Middle School, KIPP New Jersey's newest school in Camden, 100 fifth graders last year had their choice of multiple extracurriculars. For math teacher Tyler Middleton, he hoped they would choose his coding club. He had stiff competition. Students were offered options like basketball, game club, and his coding club—just to name a few.
In their first year, the coding club met for an hour after school once a week and spent their time on code.org and other learn-to-code sites. By the end of the year, they were using code to manipulate small Finch robots. "Our kids are naturally curious, and they want to explore with whatever they have at their fingertips," Middleton says.
His club isn't an anomaly. Across KIPP New Jersey's 11 campuses, there are dozens of extracurricular clubs, sports, and activities. Several schools also partner with community organizations to offer extended options for students. These extracurricular experiences help our kids learn more about themselves and the world around them, plus help them build character traits that are important to living healthy, productive lives. At our campuses, students have a variety of in-school and after-school extracurricular activities, sports, after-school programs, and other options to help them explore their interests.
Partnering with the Community
Beyond the programming available at KIPP New Jersey schools, select campuses partner with community organizations to provide additional after-school and enrichment opportunities for students. KIPP Seek Academy, KIPP Life Academy, and KIPP BOLD Academy partner with chapters of the Boys and Girls Club in Newark to offer after-school activities and KIPP THRIVE students have the opportunity to attend the Center of Hope's after-school program. Other community partners like New Jersey Performing Arts Center, the JFK Recreation Center Pool, and FHAK 2.0 Academy, offer students enrichment like swim lessons, coding classes, spoken word and hip-hop classes.
While these clubs keep kids busy after school, their benefits go far beyond that. Candice, an eighth-grader participating in the Peer Alumni Connection Team mentoring program at KIPP TEAM Academy, used the support of the team to help her get a handle on her grades, make better choices, apply to high schools and make the honor roll. "Having an alum to connect with is like having an older brother or sister you can talk to about stuff that comes up in life," Candice says.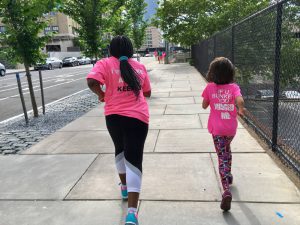 Other students select clubs like Girls Running Club in Camden because they want to challenge themselves. "Before [Girls Running Club], I would have said I can't run a 5K, I'm not strong enough. But now that I've been here with such amazing teammates and students and teachers, I feel more comfortable to do it," said Kassandra, a rising 6th grader at KIPP Whittier Middle School, days before she completed her first 5K in Philadelphia.
Extracurriculars like the running club are a valuable tool to help our students achieve success outside the classroom, strengthen their minds, explore diverse interests, and develop time management skills. They also strengthen teamwork and social skills. Tyler Middleton has seen this first hand in his coding club. "Kids get really excited about what they figure out. They love to uncover something and then share with everyone what they discovered."
Have questions about the clubs and extracurriculars offered at your child's school? Contact the school's front office for more information.
The following two tabs change content below.