What are the essential ingredients for a curriculum that prepares every student for success in high school and beyond? Across our network, many families have students with siblings in both elementary and middle schools who are learning the answers. Meet the Hamilton family from Camden. Parents Nyasiah Floyd and Dwayne Hamilton have two children, Nyla, a fourth grader at KIPP Lanning Square Primary and Jordan, a seventh grader at KIPP Whittier Middle. The two are passionate about learning, whether it's in math class, reading, or learning defensive plays on the football field. Step inside these student's lives as we look at what factors help our curriculum come alive.
Nyla Hamilton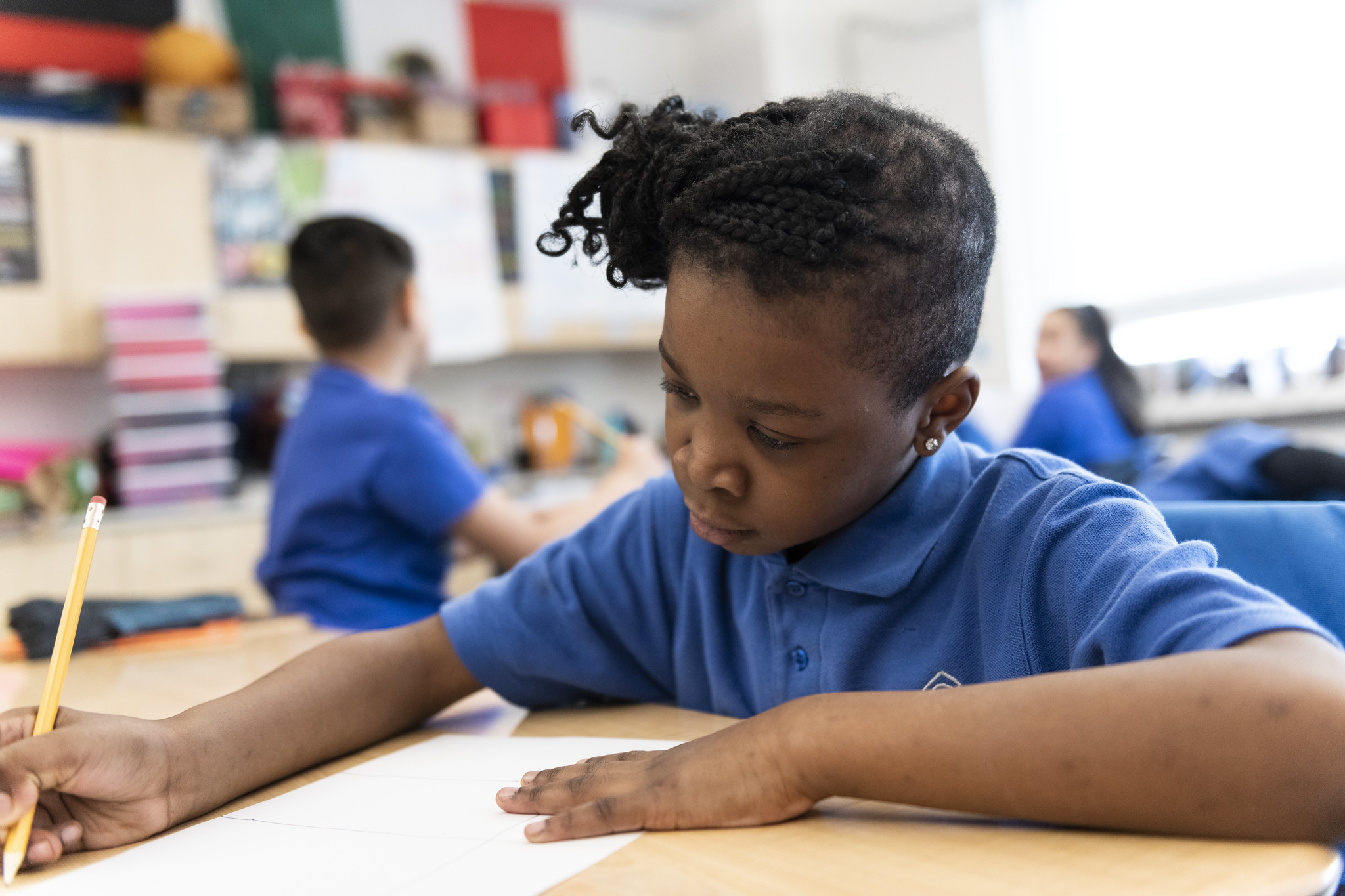 Fourth grader Nyla loves a good math problem. Why? She's looking ahead to her future. "When we get into the real world, math will make life easier for us. When we move into our own houses, we need to know math so we can pay our bills, buy groceries, and all of that important stuff," she said.
According to Nyla's teachers, Joanna. Wong and Amanda Geiger, Nyla's passion for math doesn't stop after math class. At recess, she regularly joins a group of other teammates in the duo's classroom to take turns being the teacher and walk through different math problems, asking probing questions of her classmates to help them arrive at the right answer.
That collaborative, real-world approach to math is what defines our math curriculum. We reject "I do, we do, you do" teaching where students imitate the teacher's approach to a problem and instead ask kids to build on what they already know to make connections and expand their knowledge. "Every day this school year, we've launched a lesson using problems grounded in life. We find an entry point that relates to their lives and refer to ourselves and students in the problem. We make it about things like a school race, pizza, drinking water–anything that will engage them," said Ms. Geiger. "They love problems that focus on one of us having made a mistake, so they get to jump in and correct it," said Ms. Wong. "Nyla is off to a great start as a mathematician, and we've already seen her math confidence grow so much this school year," she added.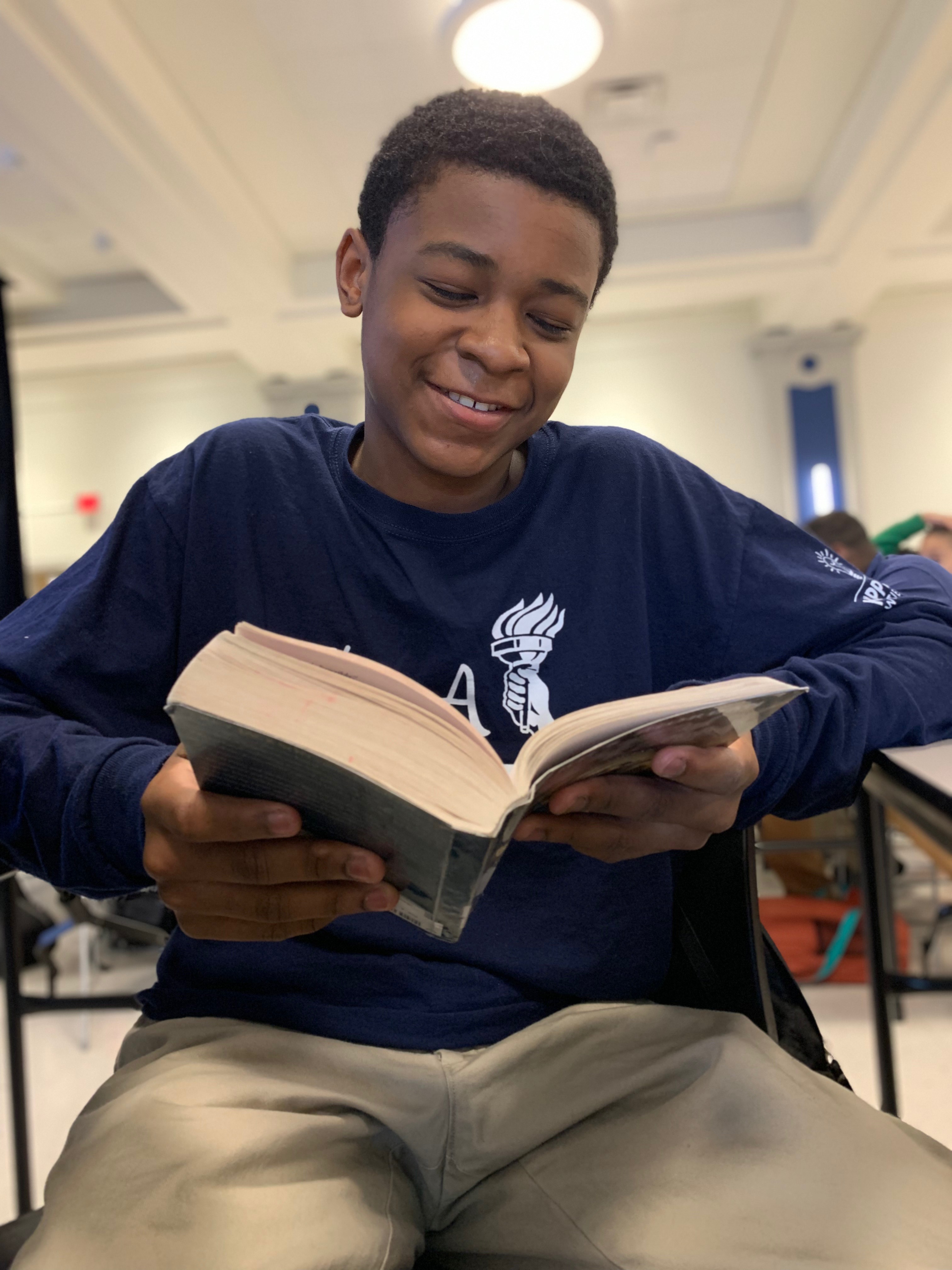 Jordan Hamilton
From reading the next football play on the field to devouring the latest graphic novel or fiction book, Nyla's older brother, seventh-grader Jordan Hamilton, is a scholar-athlete soaking up his middle school education at KIPP Whittier Middle. When we caught up with Jordan, he was in the middle of reading Rick Riordan's Percy Jackson and the Olympians. A favorite series? Diary of a Wimpy Kid, by Jeff Kinney. Jordan enjoys reading in school and often visits the library at Whittier, where he picks out books.

Literacy specialist Julianne Barto oversees the school's library room and helps middle schoolers like Jordan develop and maintain their passion for reading. According to Ms. Barto, middle school is a crucial turning point for kids interest in reading. "In middle school, it's important for kids to feel empowered and independent as readers. We encourage them to choose books they enjoy reading so they see themselves as readers and develop habits of good readers. For example, a strong reader always has a list of books they're going to read next!" said Ms. Barto.
When he's not reading a good book, he's learning how to excel on the football field as the team's newest tight end. According to Jordan, playing football helps keep him on track academically. "You have to be fast, strong and smart to play football. You have to know what the defense or the offense is about to do," he said, adding, "My coach talks a lot about how we're not athletes, we're student athletes–we can't be good at football and let our grades suffer."
The following two tabs change content below.