What are the essential ingredients for a curriculum that prepares every student for success beyond high school? Many of our families have siblings in elementary, middle, and high school who are learning the answers. Meet the Hall/St.Clair family in Newark. All five of the family's children have attended or graduated from our schools. There's Dymond, a kindergartner at KIPP SPARK Academy who's learning the joys of reading. Her older brother Daniel is in fourth grade at the same school. Then there's middle schooler, Shemar St. Clair at KIPP TEAM Academy, who's learning what it takes to excel in science and KIPP Newark Collegiate Academy senior Meliek St. Clair who is focusing on preparing for college next year. We think you'll agree: Their enthusiasm for learning is pretty contagious!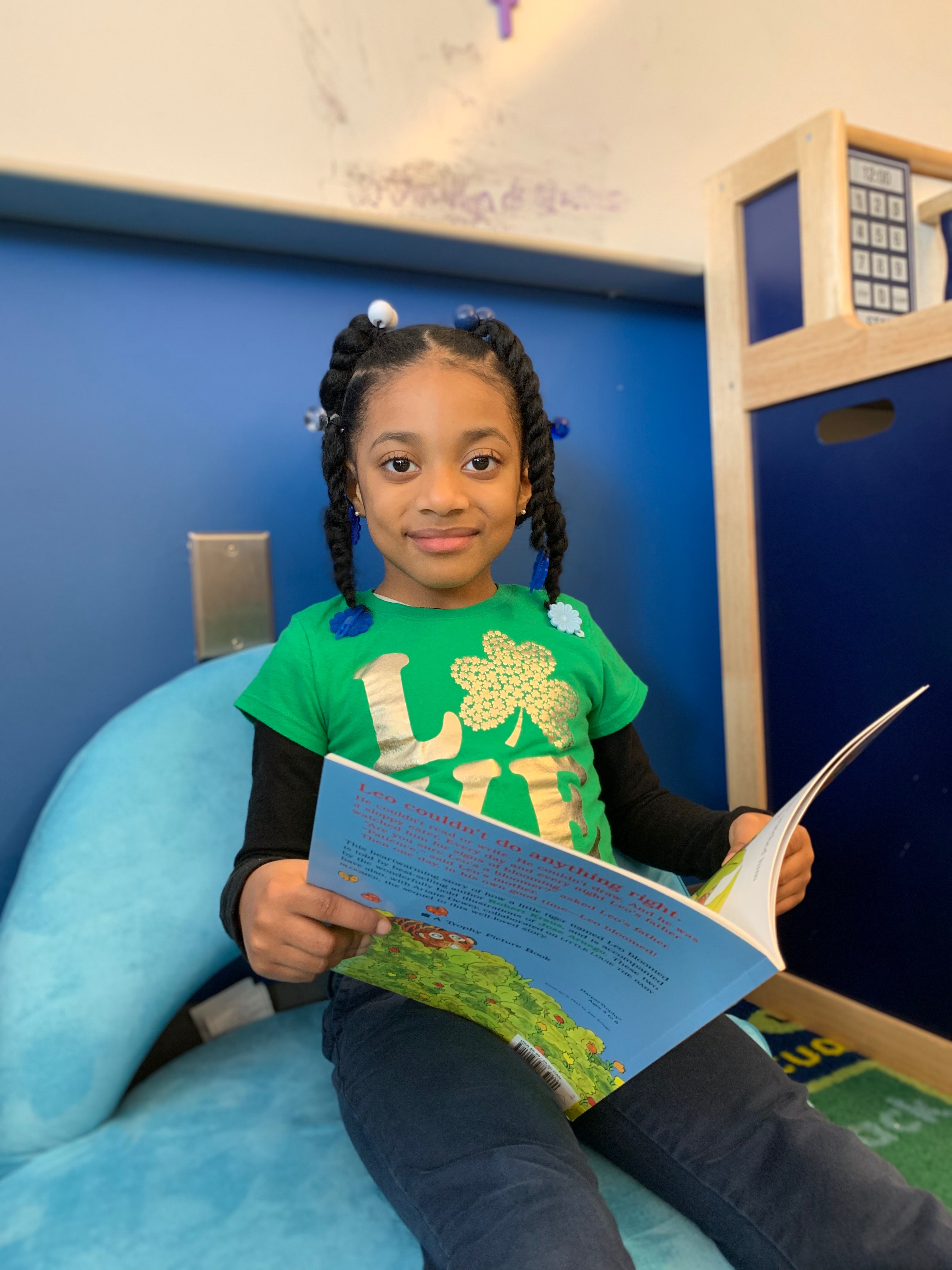 Dymond Hall

When we caught up with kindergartener Dymond Hall in her classroom at KIPP SPARK Academy, she wore a bright green shirt, celebrating her love of Dr. Seuss's Green Eggs and Ham, part of the school's March celebration of Read Across America Week. Dymond loves to read, both at home with her mom and dad and at school. This year, some favorites are Dr. Seuss's Thing One and Thing Two and Leo the Late Bloomer by Robert Kraus.
Dymond's teacher, Adalise Massa, supports her interest in reading  and is on the frontlines of our efforts to instill a love of reading in kindergarten students. "We want to make it feel natural, like a conversation.  They need to enjoy what they're reading and hold a conversation about it in a loving way," said Ms. Massa. Students at SPARK do read alouds three to four times a day, where they have opportunities to turn and talk to each other about a book, and even pick out their own from a classroom library. "For me as a kid, I didn't like to read as much because my teachers made it all about learning the rules. It helps students to hear us read passionately, because then it motivates them to understand the mechanics of it so they can enjoy reading themselves," said Ms. Massa. We believe an early enthusiasm for reading lays the groundwork for future learning across all subjects.
Shemar St. Clair
Meanwhile at KIPP TEAM Academy, Dymond's older brother Shemar, an eighth grader, is just sitting down for his science lesson. Right now, Shemar and his classmates are learning about the sun, the moon, and the earth–everything from gravitational pull, to phases of the moon, to how planets orbit one another. "Science is my favorite subject," said Shemar. "I've always been curious about nature and how things work. Science with Ms. Hatcher-Wright is my favorite class because she makes things interesting and asks us questions that make us think," he added. Outside the classroom, Shemar enjoys reading about science. He's recently read books about astronomy and the mechanics behind the atomic bomb.
Cultivating scholar curiosity about the natural world is the hallmark of our science program, which is designed to supercharge student engagement. Shemar's science teacher, Intisar Hatcher-Wright ensures that her students are honing 21st century critical thinking and questioning skills during every class. For the unit on the planets, Shemar and his classmates ran simulations using educational software that showed what planets looked like from space, and then from earth. They could even add a calendar and clock to the simulation to see the passage of time and the view of the moon from the perspective of space and earth. "We make sure students are at the center of their learning by asking them high-level questions and allowing students to evaluate each other's work. Sometimes, we even plant false information that the students then need to correct," said Ms. Hatcher-Wright. "Wherever they go after TEAM, we want them to be prepared to succeed as thinkers. Science is a gateway to higher-order thinking just like math or ELA," she added.
Meliek St. Clair

KIPP Newark Collegiate Academy student Bradford Hayes contributed writing and photography for this profile.
KIPP Newark Collegiate Academy student Meliek St. Clair will cross the stage at graduation this June as a college-bound student. Getting there, he said, involved a lot of work. "I really had to improve my writing skills and learn to think more critically about what I was reading," said St. Clair.
Last year, Meliek enrolled in AP Composition with Ms. Proft in order to strengthen his writing skills. Our academic approach to high school ensures every student will be enrolled in a humanities AP course before graduation. According to Chief Academic Officer Sarba Aguda, this requirement is seen as unusual in some high schools, but she thinks it pays off. "We do it because we believe all students deserve exposure to a rigorous curriculum that equips them with the thinking skills they need to excel in college and in life," said Aguda.
For Meliek–who loves math, science, and photography–and runs on the school's cross country team, college dreams have recently become a reality, thanks to his hard work and the support of his KIPP Through College counselor, Aixa Carmona. Ms. Carmona has helped walk Meliek through the process of applying to 15 colleges, while ensuring that he has the skills it takes to succeed once he arrives. "It's not enough to just to get accepted. Organizational and time management skills are key in order for students to be successful once they're in college," said Ms. Carmona.
So far, Meliek has earned admission to Florida A&M University, University of Maryland Eastern Shore, and Bloit College. He'll announce his decision at KIPP New Jersey's Senior Signing Day, when seniors celebrate their acceptances and inform a cheering crowd of their final selection. He looks forward to studying business in college.
The following two tabs change content below.